4v4 Grassroots In-Person Coaching License Course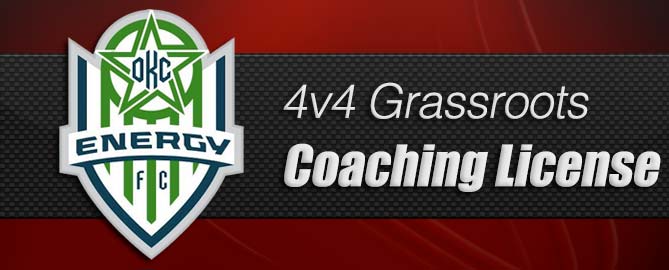 Coaches, GREAT news!!
Oklahoma Soccer Association and Energy FC are offering a special deal for the NEW 4v4 In-Person Grassroots Coaching Course.
This course is designed for coaches working in the Under 5, 6, 7, & 8 age groups that play 4v4.
The course will be held Thursday, April 26 from 5:30-9:30pm at SoccerCity OKC. (Field session will be held at NOKC soccer complex).
The cost is $25.00 (normal cost of this course is $40.00) and is a one time offer at that price and is limited to the first 24 candidates that register.
For more information on US Soccer Grassroots coaching courses, please click here: https://www.ussoccer.com/coaching-education/overview
In order to register, coaches will need to have completed the Introduction to Grassroots Coaching which is an online overview of US Soccer Coaching Education Pathway. This is free course and it only takes about 20 minutes to watch/complete!!
Please register ASAP in the DCC (Digital Coaching Center).
WWW.DCC.USSOCCER.COM
If you have any questions, please email Matt Fansher matt.fansher@energyfc.com